2020 Lottery Board Raffle
PRIZE: $250's of Scratch-Offs & $100 Cash
TICKET PRICE: $5 for 1 Ticket
DRAWING: Sunday, December 20, 2020

Buy by Mail:

Make check payable to Mechanicsville Volunteer Fire Depatment. Mail check with Name, Phone Number, and Mailing Address to P.O. Box 37 Mechanicsville, MD 20659.

Buy in Person:

V

isit Station 2 on Monday or Wednesday nights from 6PM to 8PM or by contacting any Mechanicsville Volunteer Fire Department Member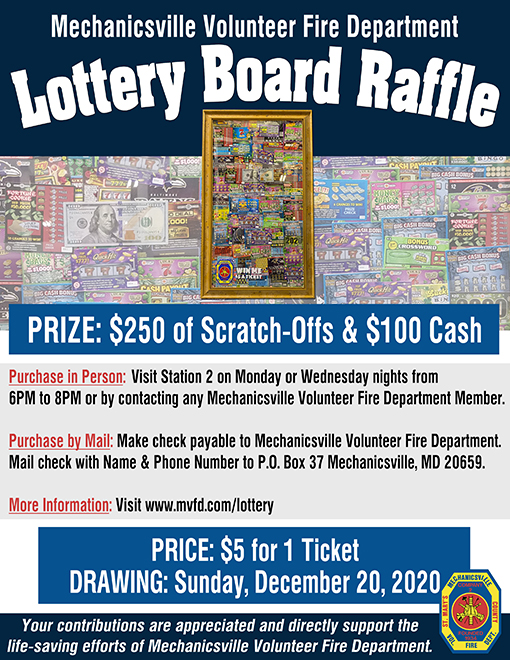 RULES
1. Must be at least 18 years old to purchase.
2. Winner need not be present to win.
3. Winners will receive a phone call with instructions on how to claim their prize on Sunday, December 20, 2020.
4. Prize must be claimed within 30 days.
5. Winner will be responsible for any applicable sales tax and shipping fees.

For more information e-mail lotteryboard@mvfd.com.
Your contributions are appreciated and directly support the life-saving efforts of Mechanicsville Volunteer Fire Department.