By Mechanicsville Volunteers
December 7, 2018

At 0141 hours, Engine Companies 2, 1002, 1005, Tankers 2, 1002, 1005, Trucks 7, 1001, and Squad 7 were alerted to 28540 Thompson Corner Road for the reported Sawmill on Fire. Engine 23, Tanker 2, Tanker 24, and Chief 2 responded with 10 personnel moments after dispatch. Engine 23 and Chief 2 were the first to arrive finding a large sawmill structure, approximately 100' X 40' well involved with fire. Chief 2 established the command.

Tankers 2, 24, 1002 and Engine 1005 were next to arrive and set-up water supply operations on Thompson Corner Road. Engine 23 advanced a 2' attack line and began to knock down the fire. Truck 7, Truck 1001, and Squad 7 were next to arrive. Crews stretched an additional attack line, began removing debris, and set up for ladder pipe operations.

Moments later Truck 7 began flowing the ladder pipe to knock down the bulk of the fire. The ladder pipe was then flowed again a short time later to wet the entire area down one last time.

Units operated for approximately 2 hours before being released by command.

Units:
Engine 23, Tanker 2, Tanker 24, Utility 2, Utility 2A, Fire Chief
Mutual Aid:
Engine Companies 1002, 1005, 1014 Tankers 1002, 5, 1010, 1001, Calvert 6(ran in place of Tanker 1005 from the Benedict Bridge due to another fire in Prince Frederick) Trucks 7, 1001 Squad 7 Ambulances 299, 296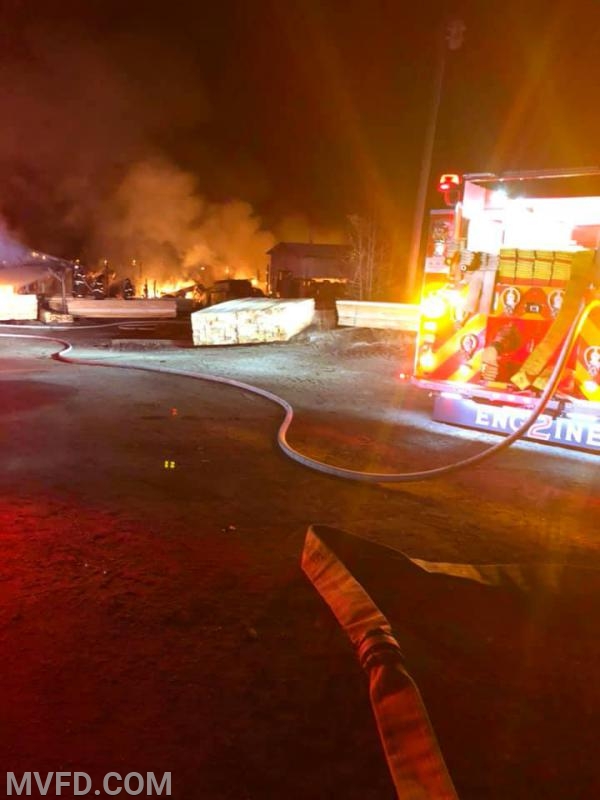 Volunteers responded to this sawmill fire off Thompson Corner Road.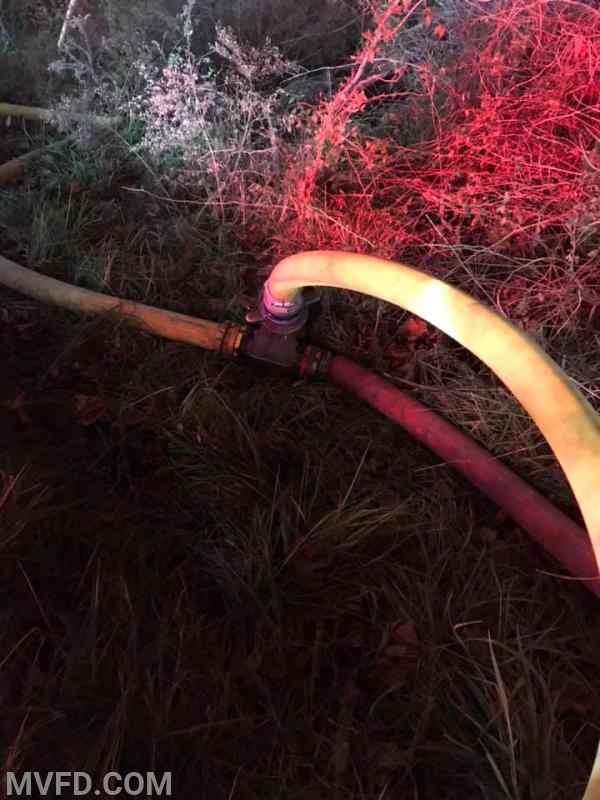 The Humat valve being used in a "Rural" setting. The red supply line is from Tanker 2 "nursing" Engine 23 upon arrival. The Yellow Line on the top is from Engine 1005 who has established a draft from a folding tank for long-term operations. The yellow line going to the left is Engine 23s supply line.