2018 Incidents
Jan
82
Feb
44
Mar
113
Apr
104
May
85
Jun
60
Jul
77
Aug
33
Sep
0
Oct
0
Nov
0
Dec
0
Total
598
2018 Jobs
Fires
19
Extrications
7
Past Incidents
2017
872
2016
931
2015
884
2014
797
2013
830
2012
862
2011
874
2010
843
2009
773
2008
754
2007
848
Web Counters
Website Visitors
Since
March 15, 2004

Visitors Today
Aug 21, 2018

Copyright © 2018 Mechanicsville Volunteer Fire Department, Inc.


Duplication of text, photos, or any other content on this website is prohibited without permission of MVFD. If you have questions, please contact us at info@mvfd.com
National Weather Service Alerts for St. Mary's County, MD
Mechanicsville Volunteer Fire Department, INC.
"Proudly Serving with Pride, Dedication, and Commitment Since 1934"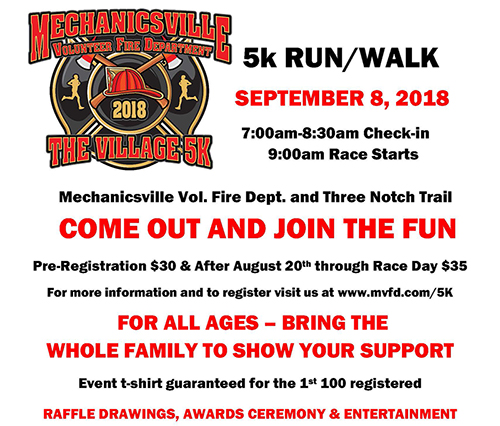 ACTIVE.com Listing
Click Here to Register Online
Click Here to Download Registration Form
MVFD 5K Sponsor Letter 2018
Volunteers Respond to Large Animal Rescue

Mechanicsville Volunteers, August 14

On August 14 at 1840 hours, Car 2, Rescue Squad 2, Utility 2, UTV 2, and Brush 2 responded to the 26000 Block of Meadow Wood Dr. In Country Lakes for a Animal Rescue. Engine 23 also made the response later on in the incident after handling another emergency in the first due.

Units arrived to find a horse had become stuck in a large hole within a ravine deep in the woods. The ground level was as ... (Full Story & Photos)


Units participate in annual National Night Out

National Night Out 2018

Mechanicsville Volunteers, August 07

National Night Out was a great success this year with Engine 23, Rescue Engine 22 and Rescue Squad 2 attending 4 locations.

Crews had a great time at Golden Beach, Ben Oaks, Persimmon Hills, and Country Lakes, despite light showers rolling thru the area we were able to show off our apparatus and answer questions from both kids and adults alike.

We look forward to next years event and seeing the ... (Full Story & Photos)

Rescue Engine Extricates One

Mechanicsville Volunteers, August 07

At 1349 hours, Rescue 2 was alerted to Charles Street at Dubois Road for the MVC with entrapment. Rescue Engine 22 was on the air in the first due and made the response in place of the squad, leaving a crew for the squad available in quarters.

Rescue Engine 22 arrived to find a single vehicle on its roof with one subject trapped. Rescue Engine 22 went to work stabilizing the vehicle, and removing ... (Full Story & Photos)


Evolution 2 - Set up a second SLT to compensate for the reduced capacity of the first SLT.

Monday Drill Results

Water Supply Officer Joseph Guyther, July 30

Lessons learned on the regular drill on 7/30/18. The "drill" was really an experiment on several evolutions that we had not conducted in the past.

Evolution 1 – set up a single lane folding tank (SLT). In rare instances where a working fire incident is located on a roadway too narrow for shuttle apparatus to pass by the deployed folding tank, it may be necessary to restrict the opening of ... (Full Story & Photos)

Leonardtown Water Rescue

Mechanicsville Volunteers, July 24

On Tuesday, Squad 1, Raft 5, Raft 2, and Company 19 were alerted to respond to 26005 Point Lookout Road for the Water Rescue.

The area was experiencing severe flooding from several days of rain and coastal flooding. With that, Rescue 2 with Raft 2 made the response with 6 personnel.

First arriving Squad 1 and Chief 1B, found 2 people trapped by the water in a business with no injuries. Chief 1B ... (Full Story & Photos)



Raft 2 retrieving one subject that became trapped in a building after flood waters rose.


Mechanicsville Volunteers operated at this house fire in Golden Beach.

Company Finds Midday Work

Mechanicsville Volunteers, July 17

On Tuesday, at 1427 hours, Engine Companies 2, 1002, 1005, Tankers 2, 1002, 1005, Trucks 1003, 7, and Squad 7 we're alerted to 39592 Walnut Circle for the reported House Fire. Engine 24(Lt. Raley), Tanker 2, and the Fire Chief(Trowbridge) marked responding with 7 at dispatch. Rescue 2(FF Korb), and Engine 23(FF Gray) also made the response with 7 additional volunteers.

Chief 2 and Engine 24 arrived ... (Full Story & Photos)

Passing of Board of Director/Member William R. "Hoof" Mattingly

Assistant Secretary/Treasurer Karen Montgomery, July 16

The Mechanicsville Volunteer Fire Department regretfully announces the passing of Board of Director and member William R. "Hoof" Mattingly. Mr. Mattingly was active in the department up to the time of his passing. Over the years Mr. Mattingly assisted the department with many projects. In addition, he volunteered to house our 1950 Ford Firetruck during the building renovations. The department ... (Full Story & Photos)



Passing of Board of Director/Member William R. "Hoof" Mattingly

Feel free to look around and leave comments in our guestbook.